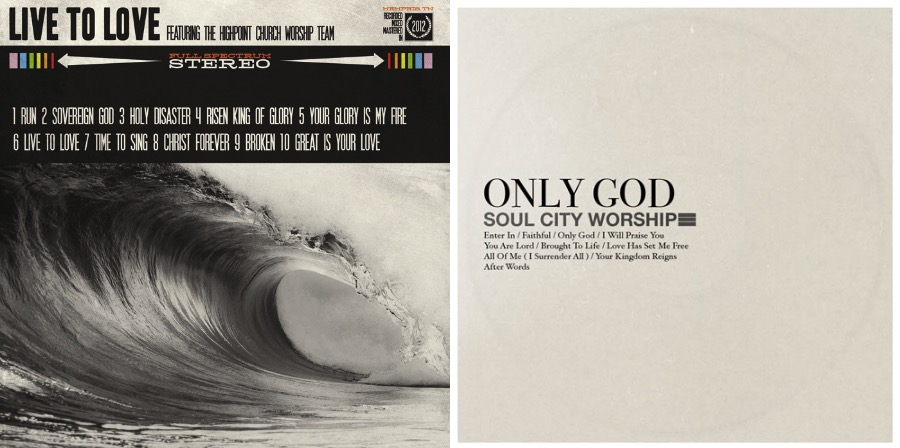 One of the first things I do after moving [1] is find a church. This typically leads to strife when it comes to worship. Before I join a church I want to be able to fall into the worship as that's where I often am closest and most connected with God. More than that I want my church to take the craft of worship seriously and understand it's importance in the culture of the world outside the church doors. I've been lucky to attend two different churches that do just that and have created two really great albums in doing so.
Live to Love
I can't remember how long I'd been going to Highpoint Church when Live to Love was released. I know that it was early 2012 and I'm pretty sure it wasn't long after I'd started visiting. No matter when it was, I was (and am) blown away by it. I'm proud to be friends with people who were able to craft something so original, intimate and distinctly Memphis in it's texture. If you want to get a sense of the quality that Highpoint Church expects and continually builds upon this album is a great place to look.
Only God
Before moving to Chicago I had my eye on Soul City Church as the main contender for our new church home. I'd asked around at Highpoint and Soul City came up a few times. When I started looking online I found echoes of the same grounded love and culture embracing traits that I've come to expect from a church through my years at Highpoint. In my first visit I knew that I'd found a great fit for a new home church that's literally at the other end of the block from my day job. Earlier this year Soul City Church released their first album of original music titled Only God. Where Live to Love is intimate, Only God is vast and has more of a sheen that leans more towards the aesthetic of Chvrches. My biggest complaint with Only God is that it has some consistency issues with the quality of two or three of the songs.
Wrapping It Up
I've been blessed to find church homes that value the investment in their worship. Highpoint Church and Soul City Church are truly home for me and are producing music that's worthy of your time. I can't recommend these albums any higher.
---
I've moved so many times in my life that almost a regular thing to me anymore. 18 times by age 28 is the qualifier here.  ↩